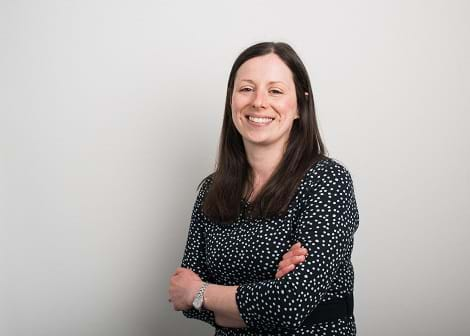 Laura Laffey
Medical Negligence Solicitor
Newcastle
Laura Laffey is a key part of Thompsons Solicitors' serious injury and medical negligence teams based at the firm's Newcastle office.
Laura specialises in a wide range of claims arising from pressure sores; surgical errors; delays in diagnosing cancers and fractures. She has also taken cases which involved Crohn's Disease; birthing injuries and orthopaedic, ophthalmological and dental errors.
She joined Thompsons in July 2004 after graduating from Northumbria University, starting in the department dealing with the coal industry. In 2008 she moved to the clinical negligence team as a paralegal and qualified as a solicitor in July 2011.
Laura seeks to achieve the best possible results for Thompsons' clients while offering support throughout their claims.  She points out that clinical negligence claims involve sensitive issues and she uses her natural empathy to give clients support and reassurance in difficult times.
Laura enjoys clinical negligence work because she finds it a fascinating area of law and because good settlements mean so much to clients.
Laura prides herself on giving the very best client care and as a result, receives excellent feedback. She is also committed to recovering the highest amount of compensation she can for her clients within the shortest possible time.
Thompsons' insistence on only acting for claimants is important to her and so is its strong sense of social justice and its long-standing links with the union movement. 
During her spare time she likes to spend time with her two young children.
Laura's Case experience
Below you will find a small selection of the successful medical negligence claims Laura has dealt with from Thompsons Solicitors' Newcastle office:
Laura secured £45,000 in compensation for a client who received sub-standard care during the birth of her second child at the Royal Victoria Infirmary in Newcastle. There was a failure to stop Syntocinon infusion - a chemical used to stimulate childbirth. That prompted excessively frequent contractions, which led to the baby being distressed and needing a forceps delivery. There was a second breach of duty by failing to ensure that a senior consultant was present during the forceps delivery which led to a portion of the cervix being trapped between the forceps and the foetal head causing a large tear to the upper vagina. The client in this case had suffered a traumatic birth and required an emergency hysterectomy. She was infertile as a result of the failings in her care, and suffered a ureteric injury requiring further invasive surgery. Laura was able to empathise with her client and offer support throughout the claim.  
Laura secured compensation for two female clients who suffered pressure sores and chemical burns during the birth of their children at Durham Hospital and Sunderland Royal Hospital respectively. Both of these clients had been traumatised by their birthing experiences and by the injuries they had suffered.
The first client suffered chemical burns to both buttocks after being left incontinent, sitting in her own urine following the birth of her second daughter. Expert evidence was obtained and it was recommend that the client undergo scar revision surgery. The cost of this treatment was included in the settlement. The case was settled for £44,000.
The second client suffered grade three pressure sores after being left lying in a hospital bed for 13 hours during labour. The client had been given an epidural and was therefore unable to move herself. Following the birth of her son, the client was then left lying in bed for a further six hours before the pressure sores were identified. The traumatic injuries these clients suffered impacted on their enjoyment of their new babies which was very distressing for them. Both cases were successfully concluded.
Laura has dealt with several urological cases. One case involved damage to an artificial sphincter, which controls bladder function, during a routine hip arthroscopy for a male client. There was a failure to ensure a urologist with experience of the device was present during the operation to deflate it and catheterise the patient. The catheter used damaged the sphincter. This case was complex in terms of the injuries the client suffered. The sphincter had to be removed and the client suffered a 14-month period of incontinence which was very distressing for him and his wife. The client also suffered a psychological injury. Provisional damages were pleaded in this case, but on the client's instructions, the case was settled on a full and final basis for £26,000. 
A woman suffered a fractured heel, but due to a delay in the diagnosis, she required surgery to fuse the bone. As her job required her to stand all day, she was unable to continue in her role and had to retire early. The medical expert instructed by Laura predicted that the client would have problems with the injury as she got older. Laura therefore made a claim to reflect the need for future care and assistance and ultimately settled the case successfully on behalf of her client.   The client in this case received £75,000 in compensation.
TESTIMONIALS
"The service I received was first class. I was kept up to date throughout the case, plus I received the full amount that was ask for. I would recommend Thompsons to anyone."
"Having never needed a solicitor in the past, I was concerned that I would not understand legal jargon etc, and that it would all be beyond me. All the worry was taken away by Laura Laffey, who took on my case for medical neglect. Laura spoke to me in a way I could understand, and kept me informed every step of the way. Even when I thought things looked a little bleak, Laura went on fighting in my corner and won my case for me. l would thoroughly recommend Thompsons service to anyone in need."
"Laura Laffey, the Thompsons solicitor dealing with my case, was excellent. Laura was very professional and efficient in dealing with any queries I had promptly. Laura was very approachable and empathetic. This helped me when providing my statement regarding a distressing and traumatic experience of clinical negligence. I find it upsetting recounting this event but Laura's approach made it less difficult. Laura showed great insight into how this event impacted on my life and was very determined to achieve the best possible outcome for my case. Laura did everything she could to make this process easier and less stressful for me and I am very grateful for her help. From my first contact with Thompsons Solicitors to the conclusion of my case, I found all the staff to be helpful and professional. I am very glad I chose Thompsons."
"Excellent service; structured and straightforward process; efficient correspondences.
Legal 500
The clinical negligence team in Newcastle was singled out in the Legal 500 (a directory of leading law firms) for providing 'a splendid service', adding that client care is 'second to none'.