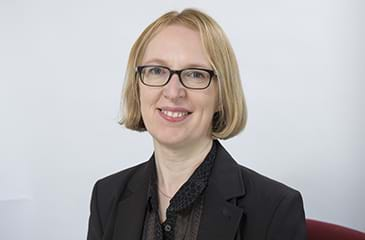 Clare Mellor
Operations Director
London
Clare Mellor is Thompsons Solicitors' operations director and a member of the executive board based in the firm's London head office. 
Her role is practice-facing; she is responsible for leading operational delivery across all the legal teams, whether personal injury, medical negligence, asbestos, industrial, accidents at work, employment law, professional misconduct or criminal law. Clare drives forward Thompsons' development so it remains the top firm in its field. 
Clare has a wide-ranging role in ensuring a fully-integrated service across head office support functions and across the branch offices to provide efficient, responsive, high-quality legal service to clients. A sharp eye for detail, driven and highly organised, Clare keeps the machinery running smoothly and in harmony, whether it is IT or finance or secretarial. 
As head of legal practice, Clare is also responsible for ensuring that Thompsons Solicitors complies with all its regulatory and professional obligations with the external body that sets standards for the profession – the Solicitors Regulation Authority (SRA). 
Keen to preserve and value the pioneering work of Thompsons in changing the landscape for workers' rights, Clare passes on her passion for respecting the legacy of Thompsons Solicitors to branch managers and directors who report to her. 
Clare Mellor, Operations Director at Thompsons Solicitors, says our commitment to using the law to secure justice for working people is the reason why she enjoys working at Thompsons.
Clare is actively encouraging the next generation of personal injury lawyers and employment rights solicitors at Thompsons to find new ground-breaking cases by creating the environment in which they can do so. Constantly pushing an innovative and forward looking approach, Clare wants to ensure that Thompsons is there for those who have been injured or mistreated for the next 100 years. 
Clare started out as a personal injury specialist, moving to Thompsons Solicitors in 1996 after being attracted by its ethic of putting workers' rights to the fore.  Before being appointed as operations director in 2015, Clare was branch manager first in Thompsons' London regional office, then the south east network of offices. 
Out of hours, Clare likes to spend quality time with her family.