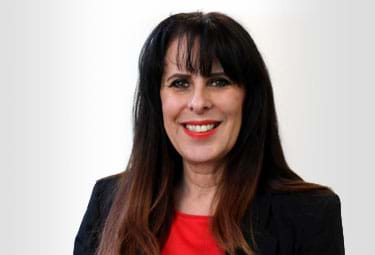 Louise Larkin
Senior Asbestos lawyer, Personal Injury Team
Liverpool
Louise Larkin is a highly experienced lawyer responsible for directing and supporting colleagues in Thompsons Solicitors' Manchester and Liverpool offices, who specialise in acting for clients suffering from asbestos-related diseases. 
As well as holding a post as senior asbestos lawyer in the personal injury and industrial disease teams of the UK's most experienced trade union law firm, Louise also represents clients who are drawn from all over North West England. 
She has acted for the victims of asbestos-related diseases for the last 25 years, operating in both England and Scotland. Having previously worked for Thompsons in Glasgow, Louise returned to the firm in October 2017. 
Louise has achieved success in acting for the victims of mesothelioma, a form of lung cancer brought on by exposure to asbestos, asbestosis, a serious long term lung condition and pleural thickening, where extensive scarring thickens the lining of the lungs. These conditions can be contracted in a wide variety of workplaces and by people involved in different jobs. 
During her career, Louise has also acted for claimants with industrial diseases such as hand-arm vibration syndrome (HAVS), noise-induced hearing loss (NIHL) and occupational asthma. 
As part of her mission to ensure that the public is up-to-date with legal developments in her field, Louise has written for local newspapers circulating in her region. 
Louise has a degree in law from John Moores University in Liverpool and qualified in Advanced Civil Court Work at Strathclyde University. In one case, her qualifications in British Sign Language proved invaluable. 
Louise ensures that clients get the best legal help available, but also that they feel supported while often experiencing the most stressful of circumstances. Louise says she is proud to work for Thompsons because it never shies away from taking on the most difficult cases, and often goes on to win them. "Asbestos-related diseases can be crippling and are often fatal, so I am determined that the victims and their families get the very best legal representation," she says. 
In her spare time, Louise enjoys fine dining, reading and keeping fit. 
CASE EXPERIENCE 
Mesothelioma claim: One of the most rewarding cases taken on by Louise involved a man suffering from mesothelioma, who also looked after his wife on a full-time basis as she suffered from dementia. Louise secured almost £700,000 in compensation from Liverpool City Council to fund her future care. The success was achieved during the claimant's lifetime. 
Mesothelioma claim: Another success of which she is justly proud, involved a profoundly deaf couple. She acted for man, who had contracted Mesothelioma, and later, for his wife, following his death. Using British Sign Language, she was able to interpret for the couple during legal proceedings. 
Asbestos-related disease claims: Louise has recently secured asbestos work with Disability First. 
PROFESSIONAL MEMBERSHIPS 
Louise is a Member of the Law Society panel. She is also a member of the asbestos victim support groups for Greater Manchester, Cheshire and Merseyside. 
She is accredited by the Association of Personal Injury Lawyers (APIL) as a senior litigator in occupational disease and as an asbestos disease specialist.