Unite the Union member John Townsend died in 2015 after an explosion at the Sheffield factory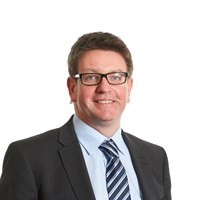 "I can only hope it serves as a warning and reminder to employers that they must do more to ensure the health and safety of their employees."

Phil Kyte of Thompsons Solicitors
A multi-national engineering group has been fined in excess of £869,000 by the Health and Safety Executive (HSE) after being found guilty of causing the death of John Townsend in June 2015.
Mr Townsend died aged 64 while carrying out pressure tests on cylinders at the company's subsidiary, Chesterfield Special Cylinders. Vaporol, a flammable substance, was used inside the cylinders to reduce levels of corrosion: it was heated to the point of ignition during the pressure tests and triggered an explosion that fired a shard of metal at Mr Townsend, causing fatal injuries.
In a recent hearing, Sheffield Crown Court found that an internal assessment in 2014 highlighted a specific sequence for cylinder testing, however this was not relayed to Mr Townsend and his colleagues. Judge Roger Thomas QC stated that the company "could have and should have acted with a great deal more care than they did".
Mr Townsend's family turned to Unite Legal Services and Thompsons Solicitors for support a legal claim following his death. The judgment found in favour of the family and the firm was fined £700,000, alongside just over £169,000 in legal costs.
Commenting at the hearing, Mr Townsend's daughter, Louise, said: "There's no way to describe the anguish our family faced after we lost dad. It's been a battle to come to terms with him being taken from us so abruptly, and also to understand how he was left exposed to the risks he was that led to his death.
"No financial penalty – however great – can fill the hole left in our hearts, but knowing that Pressure Technologies has been held to account does offer the family some sense of closure.
"We are very grateful to my dad's union, Unite, and their lawyers Thompsons Solicitors, who have worked hard to make sure Pressure Technologies were held to account, and I'd urge anyone who isn't already a member to join a union. They were there when we needed them and if it wasn't for pressure from Unite, we'd still be waiting for answers."
Phil Kyte, of Thompsons Solicitors, added: "As Louise has said, nothing will bring her dad back and it has been a long battle on behalf of her and John's widow, Lynn, to secure the compensation that they deserve. I am grateful to the HSE as well for its determination in pursuing the criminal prosecution of Pressure Technologies.
"The severity of the fine imposed reflects the multiple failings on its part and I can only hope it serves as a warning and reminder to employers that they must do more to ensure the health and safety of their employees."
---
Looking for legal advice following serious injury? Chat to one of our specialists today.
We will move swiftly to support you or your loved one to build a case for compensation after catastrophic injury. Our priority is to establish the facts and apply for interim payments as quickly as possible to secure vital funds for treatment and rehabilitation. The aim is to get you, or your loved one, on the road to recovery as soon as possible.
Our committed serious injury specialists secure millions of pounds in damages for seriously injured people each year and are supported by Client Support Coordinators and groups such as the Spinal Injuries Association, Headway and the Limbless Association, to signpost clients to sources of further aid.
If you, or someone you care about, has been catastrophically injured in the last three years contact us today for a free, no obligation consultation with a serious injury expert.
For further information, visit our How to Make A Compensation Claim page.