Ben Perry was hit by a car while helping another road user, who had crashed on the M42
A 26-year-old Bromsgrove man, whose dream career in the police was ended abruptly three years ago after losing part of his right leg in a road collision, has secured a significant compensation payment.
Ben Perry was driving on the M42 in March 2018 when he spotted another road user had crashed into a central reservation. He put a flashing light on his vehicle and went to help the stricken driver but, as he was doing so, was hit by another vehicle – amputating his leg on impact.
He spent almost half a year in hospital recovering, during which time he admits to having suicidal thoughts.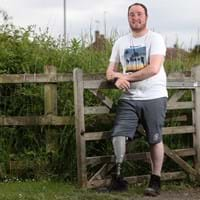 This ordeal also made me grateful I joined a trade union.

Ben Perry Thompsons' serious injury client
Fortunately, Mr Perry was able to access physiotherapy to get him walking again, with the aid of a prosthetic, something he says helped him regain a positive outlook on life. He was able to fund this through interim payments as part of a civil claim for compensation, launched by his union, Unite, and Thompsons Solicitors.
"When you're lying in bed, wondering if you'll ever walk, drive or do your dream job again, it's easy for your thoughts to spiral out of control", he said. "But I was fortunate that I had a great support network around me. My family and friends were there to help me, 24/7, and keep me motivated throughout my rehabilitation and recovery."
As a result of his successful rehabilitation, Mr Perry has been able to take on a new job as a traffic signal installation technician. He has also cultivated a substantial Twitter following, sharing his journey to inspire others who have suffered similar injuries.
With the help of Unite Legal Services and Thompsons Solicitors, Mr Perry has now secured the settlement that will cover the cost of future prosthetics, medical treatments, adaptations to his home and any lost future earnings because of his injury.
He continued: "I want anyone who has suffered a serious injury to know that it does not need to define you or rule your life. Every injury is different, but I want to inspire people who are suffering just as much psychologically as they are from their physical injuries, as I was three years ago.
"This ordeal also made me grateful I joined a trade union. I initially approached a high street law firm but after a year with them I didn't get anywhere, so I spoke with Unite the union and they put me in touch with Thompsons Solicitors – and I haven't looked back. They both fought my corner throughout, helping me secure this compensation that means I won't struggle financially in the future because of my injuries."
Karl De-Loyde, the specialist at Thompsons Solicitors who supported Mr Perry with his claim, said: "Ben's story is nothing short of inspirational. In a cruel twist of fate, his kind-hearted decision to stop and help another road user inadvertently led to his own injuries, but he has persevered through every challenge he has faced ever since.
"I am proud to have been able to help Ben throughout his journey. Making a legal claim is not just about compensation, but about helping the injured person to access whatever support they need to mitigate the physical and psychological effects of a serious injury. It's great to see just how far he has come in the last three years and I look forward to continuing to follow his journey in the months and years to come."
Stef Blasczyk, West Midlands regional legal officer at Unite the union, added: "Ben's case shows first-hand why Unite the union membership is as important now as it ever was. Ben's initial efforts in seeking legal assistance through a high street firm were not helpful to him.
"Thankfully, Ben not only turned to our Unite Legal Services panel firm for specialist assistance, but in doing so we were able to secure the compensation and the rehabilitation support that he deserved. It is worth noting that whilst doing so, Ben had to pay no deductions in legal fees when he secured his claim - yet another benefit of being a Unite member."
---
Looking for legal advice following serious injury? Chat to one of our specialists today.
We will move swiftly to support you or your loved one to build a case for compensation after catastrophic injury. Our priority is to establish the facts and apply for interim payments as quickly as possible to secure vital funds for treatment and rehabilitation. The aim is to get you, or your loved one, on the road to recovery as soon as possible.
Our committed serious injury specialists secure millions of pounds in damages for seriously injured people each year and are supported by Client Support Coordinators and groups such as the Spinal Injuries Association, Headway and the Limbless Association, to signpost clients to sources of further aid.
If you, or someone you care about, has been catastrophically injured in the last three years contact us today for a free, no obligation consultation with a serious injury expert.
For further information, visit our How to Make A Compensation Claim page.