Monty Singh suffered complications after a crush injury while working at Heathrow's Terminal 5 railway station
A 51-year-old from Burnham left in crippling pain because of a crush injury at work, has secured a substantial settlement after an eight-and-a-half-year legal fight backed by his union, the RMT.
In November 2011, Monty Singh was working an evening shift at the Heathrow Airport Terminal 5 railway station as a customer services assistant.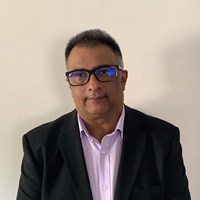 I'm just glad I had the weight of RMT and Thompsons behind me, who explained my rights and kept me updated on the twists and turns in the case in a clear and honest manner.

Monty Singh Thompsons Solicitors' accident at work client
When in the course of his duties he attempted to close a heavy metal barrier, it came off its hinges and collapsed, crushing his left foot.
Mr Singh's manager came to his aid and attempted to call an airport paramedic; however there was not one available and he made his own way home.
"We'd open and close the metal barriers on a daily basis, and there was nothing to suggest that this one was such a hazard" he said. "Clearly it had not been maintained – in reality, it was an accident waiting to happen."
The following day Mr Singh went to A&E, where an x-ray confirmed he had suffered a severe crush injury to his foot. Over the following months his condition deteriorated and damage to his nervous system caused the onset of Chronic Regional Pain Syndrome (CRPS).
Over months and years of treatment doctors fitted a spinal cord stimulator implant – which aims to reduce pain for people with CRPS – however this led to Mr Singh developing additional spinal pain.
He continued to work for Heathrow Express Ltd on a part-time basis until late 2017, when his contract was terminated. He has since been able to retrain as a mortgage advisor, but struggles walking for more than a few minutes and finds himself in intense pain if he sits down for too long.
He added: "The only time I am comfortable is if I lie down. My foot swells up if I walk for too long and sitting in a chair causes me severe back pain. The accident completely changed my life.
"It's been a long fight to get to this point, with my employer trying everything to avoid the consequences of its health and safety failures.
"I'm just glad I had the weight of RMT and Thompsons behind me, who explained my rights and kept me updated on the twists and turns in the case in a clear and honest manner."
With the support of the RMT and serious injury experts Thompsons Solicitors, who wouldn't let the employers off the hook, Mr Singh has secured a substantial settlement, covering both medical treatments costs and time off work to date, but also future costs, as his injuries have left him at a significant disadvantage in the employment market.
Dan Poet, the Thompsons executive who supported Mr Singh, added: "While we are glad to see that at long last Mr Singh has been fairly compensated for his injuries, this case is yet another example of why health and safety should be of paramount importance to all employers, as it can prevent life changing injuries to people's lives."
---
Injured at work? Contact us for expert advice on workplace accident compensation claims.
If you or someone you know has suffered an injury in an accident at work, our specialist workplace accident solicitors are on hand to help you make a claim.
Our experts will explain the process in plain English, and discuss whether you are eligible to make a claim for compensation.
We have significant unrivalled experience of winning workplace accident and injury claims and will provide a no obligation assessment of your circumstances.
Time limits of three years from the date of accident or injury apply, so contact us for advice today.
For further information, visit our How to Make A Compensation Claim page.