Bus crash victim speaks out
Government plans to restrict access to justice for people who suffer road traffic injuries have sparked complaints from victims.
Those who have been in road accidents, through no fault of their own, may no longer be entitled to free and independent legal advice if government proposals go ahead to increase the small claims limit from £1,000 to £5,000.
Victims of road traffic accidents are calling on the government to protect their right to expert legal advice to ensure that justice is available to all, not just to those who can afford to pay for it.
Case study: Bus crash victim says government must not allow insurers to rip people off and deny proper legal advice
A bus driver has spoken out after he received legal support from Thompsons Solicitors – on referral from Unite - following an injury in a road traffic accident.
David Smith, from Christchurch, was driving passengers along Alma Road, Bournemouth when a motorist jumped a red light and collided with the vehicle. The bus was driven off the road and smashed into the front of a corner shop.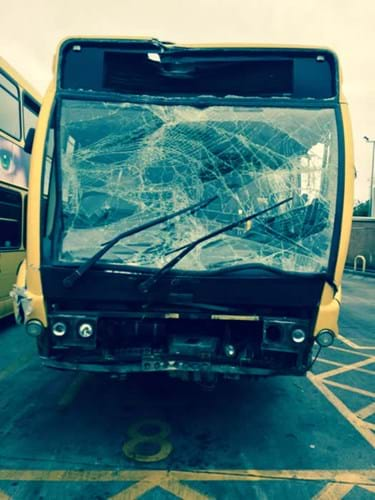 A number of passengers were injured in the collision which shopkeeper Aziz Kinay described as sounding "like a bomb".
The damage to the bus and building were extensive and emergency vehicles were called to the scene of the accident to find the front of the bus embedded in the front of the shop. The scene was cordoned off and fire crew helped passengers get off the bus safely.
Bus driver David was badly injured in the collision and was taken by ambulance to hospital. He sustained severe bruising to his head and body, particularly his left leg, along with intense swelling.
The swelling to his left leg was so bad he was in line for surgery to release a build-up of fluid.
David was forced to take time off work for a week recovering from his injuries and on painkillers. After the accident he contacted his union Unite who instructed Thompsons Solicitors to investigate a claim on his behalf.
He said: "The scene of the accident was devastating, the front of the shop was completely destroyed and a number of passengers were left hurt and panicked. The injuries I sustained were very painful and, even now, a year later, I have still not fully recovered from all of them.
"I would not have known how to begin to make a claim for my injuries, had it not been for the free and independent legal advice I received from Thompsons. I would have been on my own taking on the insurers for an accident caused by a reckless driver.
"I've been told that the government wants to take away free legal support from those who might have an accident like mine. I can honestly say it would be a denial of justice if people injured like me were left to fight on their own."
Tom Jones, head of policy at Thompsons Solicitors, said: "One look at a picture of this horrific incident and it's clear that we are talking about something which had a huge impact on people's lives. Mr Smith experienced injuries that he has not fully recovered from a year after the accident.
"Without access to free, independent and expert legal advice people like Mr Smith, injured through no fault of their own, will be left at the mercy of big insurance companies who will be able to spend what they want on legal representation and wily negotiators. I would like to see any government minister emerge from that bus and call the incident 'small'.
"If we want a legal system based on fairness, and not one's ability to pay, then the government needs to reconsider its plans to raise the small claims limit."
---
Injured on the roads? Help and compensation is close at hand.
If you've been injured on the roads in the last three years, our expert road traffic accident solicitors can support you. Whether you were injured as the driver or passenger in a vehicle, or as a pedestrian or cyclist, you may be able to claim for damages.
Unlike other firms, Thompsons only ever acts for the injured person – never for insurance companies. This means we will fight harder to secure the maximum level of compensation for your injuries, and not try to please motor insurance paymasters.
Contact us today for a free, no obligation assessment of whether you have a claim for compensation following a road accident.
For further information, visit our How to Make A Compensation Claim page.