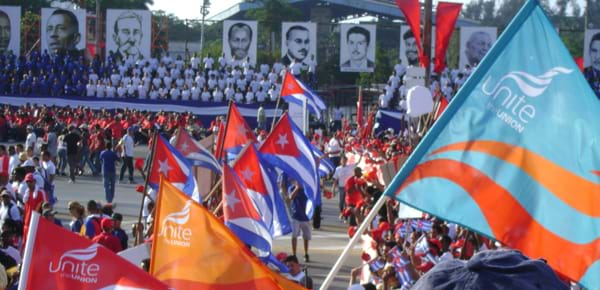 We have worked extensively with partners from the trade union movement and the Cuba Solidarity Campaign to defend the rights of the Cuban people to self-determination, campaign against the illegal U.S. blockade and for the freedom of the unjustly imprisoned Miami Five.
Despite its size, Cuba has established a model health service and education system, and is an inspiration in the way it protects its public sector. It offers international solidarity throughout Latin America and around the world, and regularly sends doctors where they are needed.
When the Soviet Union collapsed and Cuba faced enormous difficulties, Thompsons worked with UNISON and other unions to deliver much needed supplies, and in particular ambulances, to the Cuban health service.
The links established then have since been used to work with individual unions and the TUC to develop solidarity with the CTC (the Cuban equivalent of the TUC), and with other Latin American countries who support Cuba.
Thompsons fully supported the campaign to secure the freedom of the Miami Five, and worked with other human rights lawyers and with the trade union movement to highlight their plight among the trade union and legal community.
A number of Thompsons' staff have been involved in fundraising activities, including cycle rides across Cuba, to raise money for vital educational equipment for Cuba's schools.
For more information, visit the Cuba Solidarity Campaign website.