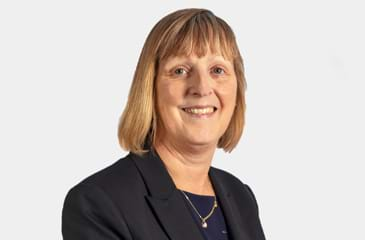 Gwen Kirby-Dent
Senior Serious Injury and Clinical Negligence Injury Solicitor
London
Gwen is a highly experienced senior serious injury and clinical negligence injury solicitor based in Thompsons' London office.
She is also the manager of a specialist unit which deals with serious injury claims and clinical negligence claims. In addition, she is the clinical negligence supervisor for the whole southern region.
Many of the serious injury claims Gwen deals with involve serious and life-changing injuries such as spinal cord injuries, head and brain injuries, amputations and fatalities.
In relation to clinical negligence, she has experience of cerebral palsy birth injuries, injuries to mother, brain injuries following surgical errors, surgical errors and misdiagnosis.
Gwen has extensive experience of multi-million pound awards for compensation, often involving periodical payments. She recovers damages not only for the pain and suffering her clients have endured, but also for the ongoing care they will need.
Successful serious injury claims
Below, you will find just a few examples of the serious injury compensation claims which Gwen has successfully handled.
Brain injury from road accident
A man who was knocked down by a vehicle suffered a serious brain injury. After being in a coma in intensive care for several weeks, he found that the injury had affected his memory and his ability to concentrate. He was left extremely vulnerable as a result and unable to look after himself. Gwen recovered a figure in excess of £1m in compensation for him which was put into a trust fund to ensure he would be provided for, for the rest of his life.
Spinal cord injury from road accident
As a result of another driver's negligence, a motorcyclist was rendered tetraplegic, requiring 24 hour care for the rest of his life. Gwen first recovered interim payments to fund a specially adapted bungalow for him and then arranged for a lump sum payment as well as periodical payments to pay for his ongoing care for the rest of his life. The total amount of compensation was £3.2m.
Double Amputation
As a result of an accident at work Gwen's client suffered a double amputation to his legs below the knee. His claim was compromised because of a finding of some fault on his part, but was settled to include adaptations to his home, prosthetic limbs for the future with other aids and equipment at £700,000.
Successful clinical negligence claims
Below, you will find just a few examples of the clinical negligence claims which Gwen has successfully handled from Thompsons Solicitors' Chelmsford office.
MRSA infection after routine operation
Gwen settled a claim for a client who underwent a repeat hip replacement operation. However, the surgery could not be completed after he was opened up because of confusion over the surgical equipment required. He was left with an open wound for several days and contracted MRSA. Because of delays in treating the infection, the remainder of his hip replacement operation could not be carried out. The man was left without a hip joint and now walks with a permanent limp. Gwen was able to recover £400,000 compensation for him.
Other clinical negligence claims
Gwen recovered £250,000 for failure to diagnose a sarcoma to the knee for a young client; £600,000 for a young man who suffered an amputation as a result of a failure to diagnose compartment syndrome; and £650,000 for a client for failure to diagnose an anal cyst resulting in over 20 operations and a temporary colostomy.
Professional membership
Gwen is a member of The Spinal Injuries Association, Headway (the Brain Injury Association), The Law Society as a Clinical Negligence Panel Member, Child Brain Injury Trust, UK Acquired Brain Injury Forum and also The Association of Personal Injury Lawyers.
She is a steering group member of Essex Acquired Brain Injury Forum. Gwen represents amputees and works with the Limbless Association.