Patients Before Profits - Justice for Paterson Victims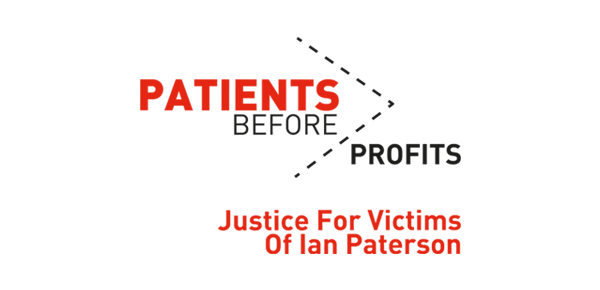 In May 2017, former breast surgeon Mr Ian Paterson was sentenced to 15 years in prison after being responsible for one of the worst instance of clinical negligence seen in recent years in the UK.
Mr Paterson was responsible for providing guideline breaching and in some instances wholly unnecessary surgeries on men and women whom he told had, or were at risk of, breast cancer. The operations took place at NHS hospitals and private Spire Healthcare hospitals in the Midlands and Ian Paterson's clinical negligence is now thought to have spanned almost a decade.
In April 2017, during the criminal case against Mr Paterson, the court heard how he had opted to carry out invasive lumpectomies rather than biopsies and in some cases
Back in April, the court heard how the defendant carried out invasive lumpectomies instead of biopsies, and even conducted full mastectomies on patients who later found out they never had cancer.
This would have been reprehensible enough, yet his negligence went further. Using unrecognised surgical techniques, he performed 'cleavage sparing mastectomies' for breast cancer patients across the Midlands. The victims of his malpractice were left with a greater chance of their cancer returning, totally unbeknownst to them at the time.
Thompsons Solicitors is the lead firm of clinical negligence solicitors pursuing compensation claims on behalf of Ian Paterson's former patients. We currently represent over 500 of his former patients from both his NHS and private practice.
Our role however does not end there. In addition to fighting for the rights of those patients to answers and financial compensation, we have also launched a dedicated campaign, Patients Before Profits - Justice for Paterson Victims, to investigate and shed light on the dangerous legal loophole which currently exists and allows private healthcare providers to shift responsibility for negligent clinicians working at their hospitals in a way the NHS never could, or would.
Thompsons' investigations surrounding this case have led our lawyers to find issue with the role private healthcare providers have played in these events, and the lack of responsibility they are willing to assume for it.
We think it is essential that patient safety is prioritised over profit, regardless of whether people are treated through the NHS or privately- and currently, the laws in force do not mean this is the case.
Thompsons Solicitors want to ensure that legal protections and safety standards are paramount across the board of medical practice, making private establishments as accountable as their NHS counterparts.
What do we want to achieve?
Patient Before Profits - Justice for Paterson Victims aims to:
Eliminate and expose the justice system 'liability loophole' that has, for too long, allowed private healthcare providers to shift the blame and responsibility for negligent staff working on their premises while keeping the payments made by patients, regardless of the outcome of their treatment.
Guarantee that private companies are held just as accountable as the NHS in areas of safety, responsibility and general transparency.
Ensure that patients are always prioritised over profits. No medical practitioner or body should be able to shirk the responsibility for medical negligence and still be able to make a profit.
Cement a legal guarantee that patients, no matter where they are treated, will have the same access to formal legal redress should they be injured by any other person at a medical establishment. 
How can I support Patients Before Profits - Justice for Paterson Victims?
You can demonstrate your support by telling private healthcare providers to put patients before profits:
"I am disappointed at the way this has been handled by Spire Healthcare and the General Medical Council, who seem to be trying to wipe their hands of it," she said. "It has made me determined to ensure neither he nor they get away with what has happened. If a hospital is not responsible for ensuring the professionals working on its premises are acting ethically and responsibly, then who is?"
Sarah
,
our medical negligence client
About Thompsons
Since 1921, Thompsons has successfully helped hundreds of thousands of people who have suffered due to the negligence of others. Our specialist lawyers act quickly and compassionately to ensure clients are provided with the upmost support and maximum compensation in the shortest possible time. You can learn more about Thompsons by visiting the About Thompsons page.
Invitation to attend Ian Paterson evidence session
If you or a loved one has suffered medical negligence at the hands of Ian Paterson, you can attend an evidence session as part of an independent inquiry into the actions of the former breast surgeon. Click here for more details.